NEWS RELEASE
Standard Uranium Announces Final Analytical Results from Summer Drill Program at Flagship Davidson River Project
Vancouver, British Columbia, November 08, 2022 — Standard Uranium Ltd. ("Standard Uranium" or the "Company") (TSX-V: STND) (OTCQB: STTDF) (Frankfurt: FWB:9SU) is pleased to announce the final analytical results of the Phase III summer 2022 diamond drilling program at the Company's flagship 20,006-hectare Davidson River Project ("Davidson River"). Davidson River is situated in the Southwest Athabasca Uranium District of Saskatchewan, approximately 25 km to 30 km, respectively, to the west of Fission Uranium Corp.'s Triple R deposit and NexGen Energy Ltd.'s Arrow deposit.
Key Focus Points:
All 2022 drill holes intersected prospective graphitic structures in basement rocks in addition to favorable alteration zones.
Analytical results returned elevated pathfinder elements in addition to locally elevated uranium and boron content in several drill holes.
Aggressive step-outs have confirmed the continuity of wide structural zones along the Bronco and Thunderbird conductors.
The southeast Bronco conductor hosts some of the most prospective basement structures intersected to date.
Several kilometres of strike length remain untested on all four conductors, with high- priority drill targets identified.
GoldSpot Discoveries Corp. ("GoldSpot") will be providing supplementary targeting vectors for the planned 2023 drill program through data-driven AI technology.
Davidson River – Summer 2022 Drill Program Summary
The Davidson River Phase III program comprised ten (10) drill holes totalling 4,107.7 metres of diamond drilling along the Thunderbird and Bronco conductive trends (Figure 1). Significant structure and favorable alteration zones were intersected, defining high priority follow up target areas for the planned 2023 summer/fall drill program.
Deep seated and strongly graphitic basement structures along the Bronco and previously untested Thunderbird trend were successfully intersected in all drill holes completed during the 2022 exploration program. DR-22-033A and DR-22-037 host anomalous uranium as well as significant sulphide mineralization and elevated pathfinder elements. Additionally, and in conjunction with hydrothermal quartz, metasomatism, and remobilized graphite, a highly prospective limonite-hematite redox alteration zone was intersected 37 metres below the unconformity in Thunderbird drill hole DR-22-033A (Figure 2A).
The southeast portion of the Bronco trend hosts some of the most prospective basement structures intersected to date at Davidson River. DR-22-036 (Figure 2F, 2G) contains multiple stacked and reactivated graphitic shears with significant evidence of hydrothermal fluid flow, while the follow up hole, DR-22-038, contains anomalous uranium as well as clay-altered graphitic shearing, indicating that the along-strike continuity of the trend opens to the south along the conductor.
Drill hole intersections of prospective structure, alteration, and anomalous geochemical results have continued to improve with each drill program at Davidson River, setting the stage for the planned 2023 drill program to be the most exciting to date. Several high-priority drill targets have been outlined through integration of targeting vectors, which will be further supplemented by work completed by GoldSpot prior to the drill program slated to begin in June 2023.
Sean Hillacre, Vice President of Exploration, commented: "The Davidson River Project continues to deliver exciting and encouraging results with each drill program as we search for high-grade basement hosted uranium mineralization. The alteration zones and structure intersected during the 2022 drill program are just the ingredients we want to see, and we will be utilizing these promising results in concert with GoldSpot's cutting-edge technology to continue exploring in 2023."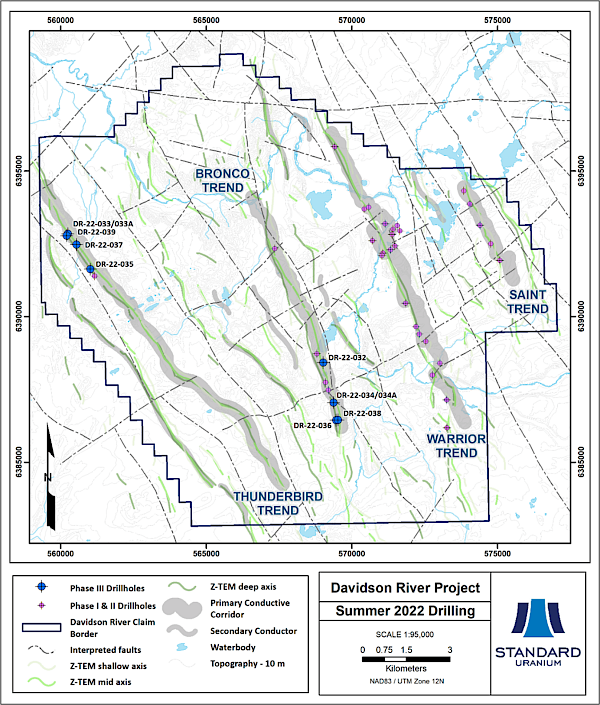 Core photos and cross-sections highlighting prospective structural zones associated with elevated uranium and/or pathfinder elements are presented in Figure 2 and Figure 3. A summary of highlights of geochemical anomalism for each drill hole is included below.